Giovanna Casotto Biography
by Administrator on Sep 30, 2011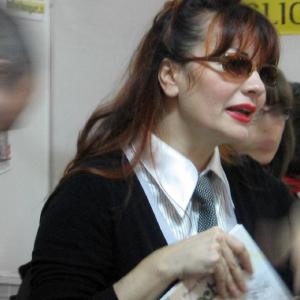 Giovanna Casotto is next to Ilona Staller(Cicciolina) one of Italy's most popular TV actrices, but she also is an comic art artist, already auteur of « Expériences Interdites », « Les Désirs de Vénus », « Mauvaises Habitudes » et « Chambre 179 », is one of the most published artists of the collection « Selen presents ».She's the first femal erotic italian illustrator, she's not only an illustrator, but she draws herself in all the "Selen-covers" in the most explicit erotic scenes , she's also an actrice who acts in those stories. because of her fantastic realistic drawings( of herself and her best friends), the artwork of Miss. Giovanna Casotto is one of the most beautiful you will find in that catigory. The quality of here autoprtaits are so beautiful and fantastic realistic that everyone who likes the comic art must see or have this. Giovanna Casotto got hooked on erotic comics in 1994, after meeting feet-fetish artist Franco Saudelli. With Saudelli she learns to draw and they start collaborating on several stories they write together, Franco pencils and Giovanna inks and models for. After a short stint on adventure comics for L'Intrepido, Italian publisher Trentini signs her up for his new publication Selen. Her artwork in Selen leads to major sales in Italy, reprints all over Europe and publication of her stories in the United States in the Bitch In Heat series (Eros Comix). She also becomes a requested guest in many Italian TV shows, and her appearances at comic-cons in Italy and abroad draw huge crowds. Her current projects include mini-stories for several magazines, an art portfolio, and commissions for galleries and art collectors. Bitch in Heat Casotto draws herself as the central character in these outrageous erotic tales! From S.M action to group sex, she delivers everything you could hope for! Issue # 10 chronicles a peeping tom's obsession with his lesbian neighbor - and suddenly he finds himself turned into a woman!
Comments
No comments have been left here yet.
Actions
Latest Comments
hello,
I've just come from the Subrion forum and want time to test the comments. I have installed the plugin, but it still does not work. VII. I'm doing something wrong.
on Nov 13, 2014
about Lessons Learned From An App Graveyard
Morbi nec metus. Etiam sit amet orci eget eros faucibus tincidunt. Nam pretium turpis et arcu. Fusce risus nisl, viverra et, tempor et, pretium in, sapien. Vestibulum dapibus nunc ac augue.
...
on Nov 13, 2014
about Lessons Learned From An App Graveyard