Subrion CMS 3: Now More Powerful & Flexible Than Ever Before
by Administrator on Nov 19, 2013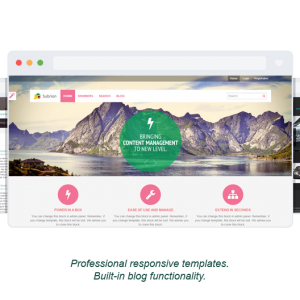 The development team behind Subrion CMS "" Intelliants, have recently announced a major update for their flagship content management system, calling it Subrion CMS 3.
Subrion is an open-source PHP content management system which has always aimed to be as comprehensive as possible in terms of functionality, whilst holding true to it's user-friendly ethos.
Key features such as full source editing, per-page permissions and extensive plugin options have always been part of the platform, but now with a host of improvements recently launched along with Subrion CMS 3, users are in for a far more powerful Subrion experience.
Comments
No comments have been left here yet.
Actions
Latest Comments
hello,
I've just come from the Subrion forum and want time to test the comments. I have installed the plugin, but it still does not work. VII. I'm doing something wrong.
on Nov 13, 2014
about Lessons Learned From An App Graveyard
Morbi nec metus. Etiam sit amet orci eget eros faucibus tincidunt. Nam pretium turpis et arcu. Fusce risus nisl, viverra et, tempor et, pretium in, sapien. Vestibulum dapibus nunc ac augue.
...
on Nov 13, 2014
about Lessons Learned From An App Graveyard