New blog posts
May 22, 2014
It's my first blog entry!
Dec 24, 2013
It's my first blog entry!
Papa Johns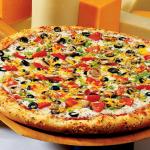 Website: http://www.papajohns.com/
As a high school student working at a local pizza pub in Jeffersonville, Indiana, Papa John's founder John Schnatter felt there was something missing from national pizza chains – a superior-quality traditional pizza delivered right to the customer's door. His dream was to one day open a pizza restaurant that would fill that void.
---
Coupons: 0
No coupons added for this shop.
Expired Coupons: 1